Tuesday saw the European Union sell its first green bond, a fund created to support projects which have a positive effect on environmental or climate issues. The 15-year bond raised 12 billions euros meaning the EU could become the largest issuer of environmentally friendly debt.
The European Commision says investor demand for the bonds was ten times as much, 135 billion euros and that would have been a record size deal; the launch and level of demand show the need (and thirst) for environmental investment globally. Just last week demonstrators marched in Brussels to demand bolder action to fight climate change. 
Thousands of protestors and over 80 organisations took part in the demonstration, their goal was for it to be the largest event in the European Union's capital since the beginning of the coronavirus pandemic.
The money raised with these bonds will be part of the EU COVID-19 recovery fund and help finance member states' environmental plans and is a first step towards their goal of being carbon-neutral by 2050.
The EU had set out an 800 billion euro COVID-19 recovery fund and it is expected that around 30% will be given in grants and loans to projects that benefit the environment and efforts to tackle climate change. These grants and loans will be available to EU member states until the end of 2026.
Europe already boasts one of the largest markets for green bonds. Around half of the issuances took place in the EU last year, the Euro is one of the most popular currencies for issuances. The European Commision recently set a goal to make the EU the largest green bond issuer globally and this record breaking programme demonstrates how achievable that goal is.
CRAZY! Record demand for EU green bond debut shows supply can hardly keep up. The bloc sold €12bn of securities maturing in 2037, after seeing more than €135bn in orders Tuesday. Both the demand and size eclipsed the UK's debut last month.https://t.co/KY0s7xKqbW pic.twitter.com/zkyytzpXjM

— Holger Zschaepitz (@Schuldensuehner) October 12, 2021
Analysts at BofA Securities (previously Bank of America Merrill Lynch), expect the EU to issue anywhere between 35 and 45 billion euros of green bonds each year. For context that would be equivalent to what all European sovereign and supranational borrowers issued in 2020.
EU budget commissioner Johannes Hahn said the EU's debut green bond "will help strengthen the role of the EU and euro in the sustainable finance market. This will serve as an inspiration to other issuers."
---
---
According to Johann Ple, a senior portfolio manager at Axa Investment Managers, "This first issue will boost the growth of the [green bond] market while further improving its liquidity." The EU Commision has stated that Tuesday's bond priced for a yield of 0.453%.
The EU has joined other recent issuers in attracting a premium price which they are referring to as 'greenium' for its green bond. Its yield represents a borrowing cost of around 0.025% under what would be expected for a conventional bond of that size according to Hahn's comments.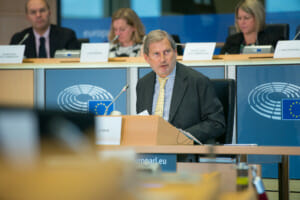 In The Photo: Johannes Hahn at EU Parliamentary hearing October 3rd 2019. Photo Credit: European Parliament
The commission will screen national spending plans in an effort to ensure the bond is being spent on genuine environmental projects. Currently there is some delay in what the EU's sustainable finance rules will look like as governments disagree over whether to include gas and nuclear as green activity.
The EU Commission has undertaken a mammoth task with the intention to stamp out any 'green-washing' projects that may make a claim for funding. It could be a long and arduous process as investment pitches must show that they will not be to the detriment of any of the EU's environmental objectives and member states need to provide details on how they will contribute to their green transitions.
The EU's green bond is a positive step in the war on climate change. It will give member nations environmental objectives a much needed boost and we will have to watch along to see if the growth of green investment is enough to change the tides on the current climate crisis. But it may not be enough, as some countries in Europe, particularly in Central and Eastern Europe, notably Poland engaged in a battle with the EU as it refuses to recognize EU law supremacy, are still heavily invested in coal as a major source of energy. And one may expect that it will take more than successful green bonds to change their course of action.
---
Editor's Note: The opinions expressed here by Impakter.com columnists are their own, not those of Impakter.com. — In the Featured Photo: 100 Euro Notes. Featured Photo Credit: Robert Anasch.