The Benefits of a Kitchen Garden in Odisha, India
This article is part of an editorial collaboration with Heifer International. It was first published on the Heifer International blog. 
---
In the village of Rangiyam in the state of Odisha, India, Budhini Hansda and her husband, Barial Hansda, tend to their kitchen garden. Though they use hand tools to till the soil and buckets and bowls to irrigate their crops, their garden is well organized and beautifully managed.
In recent months, nurturing their crops has become more important than ever before. As the COVID-19 pandemic rages through India, Hansda and her young family have become reliant on their garden for food and an income.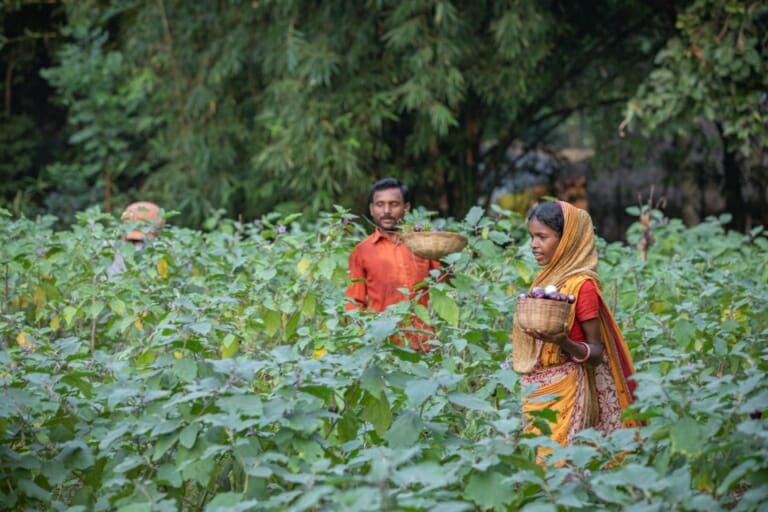 "We are food secure at a time when many people were unable to arrange even one proper meal a day," she said, "because the garden allows us to reduce our dependence on markets and other sellers during the pandemic."
This saves her family the expense of purchasing food, and also prevents unnecessary interactions that could lead to infection.
Coronavirus cases have spiked in India in recent weeks. The number of new cases reported daily has reached record highs, and experts warn the country's worsening health crisis will have a devastating effect on the world's most vulnerable people. Odisha recently reported the largest single-day spike in COVID-19 infections, and the state government imposed a 14-day lockdown that began on May 5, 2021.
This is expected to impede communities' access to basic amenities including access to savings at banks, health care facilities and benefits of government-run programs. At the same time, the country is facing an acute shortage of oxygen supplies and other life-saving medicines, and the cost of critical drugs has increased exponentially.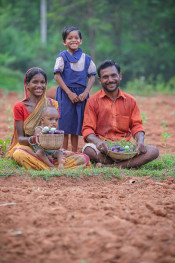 The economic impact of the pandemic has been devastating. Rural communities are therefore especially dependent on their own production, like poultry businesses and kitchen gardens, to ensure a sustainable income to support their families and attend to any immediate health crises.
During lockdown, the local haat bazaar — an open-air market where local traders, small-scale farmers and merchants take their wares in rural areas — closed. These bazaars are an economic lifeline in rural communities, but they are also presumed to be infection hotspots. Hansda notes that during the lockdown period, they cannot go to the haat and buyers cannot come to them.
On their one-acre plot, Hansda and her husband cultivate eggplant, cauliflower, beans, chili peppers, pumpkins, okra, cabbage and spinach according to the season. She also keeps some chickens and has a rice paddy. Hansda estimates that she has earned INR 60,000 ($833) per year from the sale of vegetables, and that her family, which includes her husband, their two children and her in-laws, consumes about INR 20,000 ($277) worth of vegetables annually. In addition to vegetables, they supplement their diet with eggs and chicken.
Hansda credits much of the kitchen garden's success to the immensely beneficial training she received from Heifer International, because it's difficult to scale up production without learning the right techniques.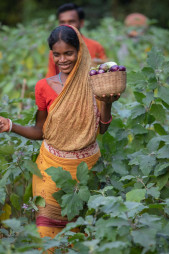 "After training, my husband and I work together on a bigger kitchen garden to cultivate vegetables," she said.
Alongside her poultry business and gardening training, Hansda also received instruction on nutrition, which has already had an impact on her family. She has prioritized her children's protein intake and is making sure that she eats enough to stay healthy. "I am going to ensure a proper diet for all my family members," she said.
Their kitchen garden feeds them and provides a much-needed income that can be used to pay for school fees for her 6-year-old daughter and other living expenses. Through this dark period, Hansda and her family are adapting and persevering — and they're growing alongside their garden.
You can help families in this time of crisis by making a gift to Heifer today. All funds raised will go directly to Heifer families to provide food, as well as urgent necessities such as face masks, hand sanitizer, medicine and more.
---
Editor's Note: The opinions expressed here by Impakter.com columnists are their own, not those of Impakter.com. — In the Featured Photo: Budhini Hansda and her husband tend to their vegetables in Odisha, India. Featured Photo Credit: Pranab K. Aich/Heifer International.