The 25th edition of the Industry Growth Forum (IGF), hosted by the National Renewable Energy Laboratory (NREL), will be held virtually on April 29-30, 2020.
Launched 25 years ago by former NREL Director Charlie Gay, when the idea of clean energy was still in its nascent phase, the Industry Growth Forum has since become a pivotal event for those working in the cleantech and innovation industry.
Despite the significant growth and development of the industry over the past couple of decades, one thing about the event has never changed: the Industry Growth Forum has always been an opportunity to connect innovators with funders who wish to invest in something new and environmentally friendly.
---

---
The Virtual IGF 2020: April 29–30, Online
This year, because of concerns related to the coronavirus pandemic (COVID-19), the Industry Growth Forum will be held on April 29-30 in a virtual format.
This new format will maintain all the features that have made this event successful over the past 25 years including a pitch competition featuring 40 cleantech startups and a one-on-one networking session. This is possible thanks to an application that will allow participants to connect with all startups, investors, sponsors, and other participants in attendance.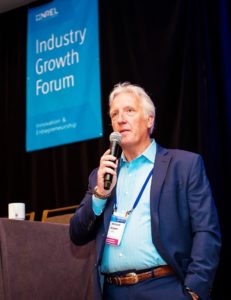 According to Richard Adams, Director of NREL's Innovation & Entrepreneurship Center, NREL understands the gravity of the global crisis but is still fully committed in its mission to connect innovative startups with their investor community. He said: "Now more than ever, these connections are critical to drive innovation to market for impact and we are dedicated to working with our IGF attendees to make that a reality."
"Growth is all about relationships and building a network that expands with time," said Charlie Gay, the former NREL Director. According to him, "The Growth Forum was launched to help build relationships between researchers inspired to develop products based on their work and the investment community."
With the registration fee now lowered to $100 for all registrants, this is an excellent opportunity for anyone in the cleantech world, as well as for those who want to see how startups pitch their ideas, or want to start building their network in this ever-growing field.
Last Year's IGF
475 cleantech advocates attended the Industry Growth Forum in 2019, and some promising startups pitched. The winners in the three categories were:
75F received both the 2019 Best Venture Award and the People's Choice Award. The Burnsville, Minn.-based company has created a suite of wireless sensors, controllers, and cloud-based software that provides predictive, proactive, and energy-efficient building comfort.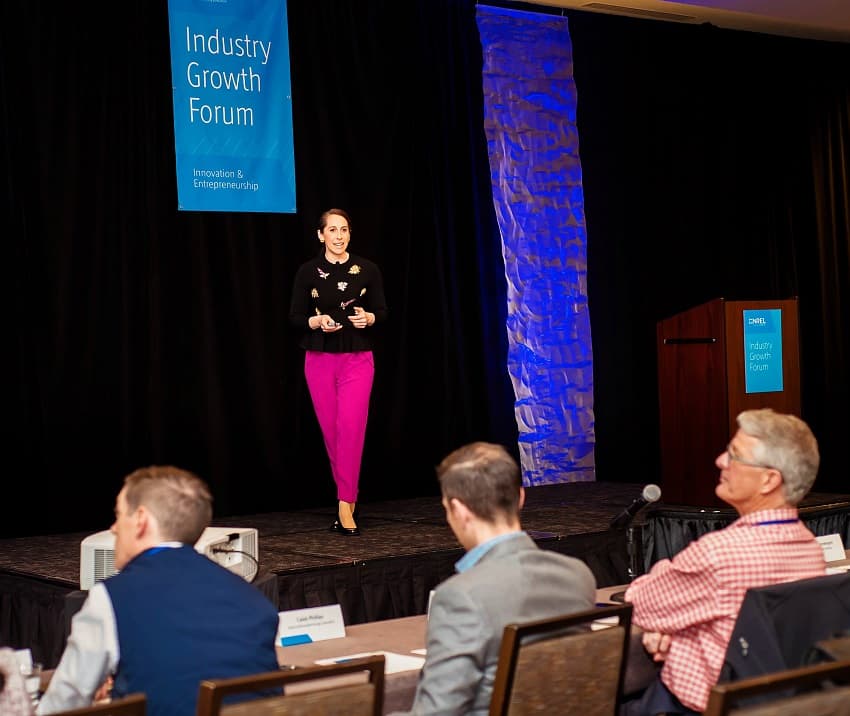 Inergy, based in Pocatello, Idaho, won an Outstanding Venture award for its plug-and-play energy storage solutions for a variety of markets.
SolPad, headquartered in Mountain View, Calif., won an Outstanding Venture award for its self-contained inverter plus storage, and microgrid system.
---
---
This Year
Every year, the clean-energy field grows. And with 150 applications received from cleantech entrepreneurs wanting to pitch their innovations, 2020 is no exception.
There are 40 promising cleantech startups who were selected from applicants, divided in four categories: early-stage, commercialization stage, growth stage, and emerging markets. They will pitch and receive feedback from a panel of investors via webinar on April 29.
One-on-one meetings between entrepreneurs and investors will take place on April 30 and will be scheduled through the IGF mobile or desktop application for registered attendees.
This year's IGF attendees will also receive three weeks of free access to PitchBook, the data, and technology company that provides financial data on companies, funds, and investors.
The 40 startups presenting at the Virtual IGF 2020 are:
Early Stage
Addionics – Tel Aviv, Israel – AeroShield – Cambridge, MA – Dimensional Energy – Ithaca, NY
Microgrid Labs Inc. – Boulder, CO – Mycocycle LLC – Bolingbrook, IL – NETenergy – Chicago, IL
Pyran LLC – Madison, WI – ReSource Chemical Corp. – Palo Alto, CA – Sironix Renewables – Seattle, WA
TexPower – Austin, TX
Commercialization Stage
Biome Renewables Inc. – Toronto, ON – Boston Metal – Wolburn, MA – Feasible Inc. – Emeryville, CA
Feedback Solutions Inc. – Burlington, CA – iGlass Technology Inc. – Tustin, CA
Longpath Technologies – Boulder, CO – PassiveLogic – Salt Lake City, UT
Polyceed Inc. – Tucson, AZ – RayGen Resources Pty Ltd. – Melbourne, Victoria, Australia
Switched Source – Vestal, NY
Growth Stage
Congruitive – Redwood City, CA – Cove.tool – Atlanta, GA – Enertiv – New York, NY
Kando – Tsur Yigal, Israel – LaderaTech – Englewood, CO – Locus Agricultural Solutions (Locus AG) – Solon, OH
Nanoramic Laboratories – Boston, MA – Rensource Energy – Lagos, Nigeria
STRATIS IoT – Philadelphia, PA – Wexus Technologies – San Francisco, CA
Emerging Markets
Aquacycl – San Diego, CA – Caban Systems – Burlingame, CA – Climate Connect Technologies – Delhi, India
Co2Concrete LLC – Los Angeles, CA – Epic CleanTec – San Francisco, CA
e-Zn – Toronto, Ontario, Canada – Kara Atmospheric Water, Inc. – New York, NY
Pacific Volt Inc. – Poulsbo, WA – Powerfield Energy – Falls Church, VA
SweetSense Inc. – Denver, CO

---
Event Schedule
All times are listed in U.S. Mountain Time.
April 29, 2020
Welcome Remarks 8:30 AM-8:40 AM
Pitch Competition Growth Stage 8:40 AM-12:00 PM
Pitch Competition Early Stage 8:40 AM-12:00 PM
Break 12:00 PM-12:30 PM
Pitch Competition Commercialization Stage 12:30 PM-3:50 PM
Pitch Competition Emerging Markets 12:30 PM-3:50 PM
Closing Remarks 3:50 PM-4:00 PM
April 30, 2020
Welcome and Pitch Competition Awards 9:00 AM-9:30 AM
One-on-One Networking Session 9:30 AM-11:30 AM
Break 11:30 AM-12:00 PM
One-on-One Networking Session 12:00 PM-2:00 PM
For more information and to register: www.nrelforum.com
In the cover picture: The 2019 Industry Growth Forum. Photo Credit: NREL
---
Editor's Note: The opinions expressed here by Impakter.com columnists are their own, not those of  Impakter.com